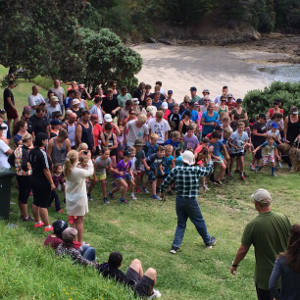 Round The Bays
Don't miss the big race on New Years Eve, be down at Sandy Bay at 8.30am. Run or walk, it'll be fun and there are prizes aplenty.
Organised by RRA and sponsorded by Colin McLaren of Rakino Olive Groves.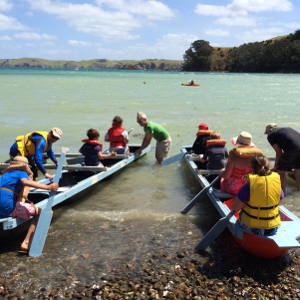 Dragon Boat Races
The other thoroughly dampening experience of the New Year will be the Dragon Boat Race, usually held over easter weekend.
RRA invites you to come to the Home Bay ramp and enjoy the fun.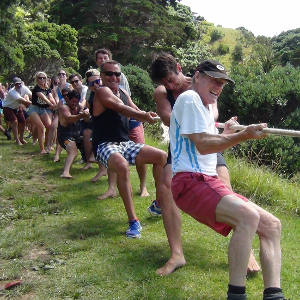 North vs South
New Years Eve we have all the usual beach races, culminating in the Grand North-South Tug-of-War.
Can the North pull it off next time?
What is RRA?
Rakino Ratepayers Association Inc (RRA) is set up to conserve, promote and advance the interests and welfare of the Rakino Island Community and to represent their views to Auckland Council and other interested parties.
In addition, RRA assists the social amenities on the island, promotes and provides a channel for communications for appropriate transport, is involved in improving communications and the environment.
Property owners on Rakino are encouraged to join RRA, an incorporated society with an elected volunteer Committee.
The Committee keeps the community briefed on and represents islanders to authorities on:
• Fire prevention and access to training
• Transport & local infrastructure
• Town & country planning
• Wharf Building and Library access
• Predator and Weed control
• Regular communications and updates
• Amenities & resources, including First Aid provision
• Maintaining dialogue with Council and other community bodies that can influence or benefit the quality of Rakino, its community and environment
You need a voice when it counts to ensure that your property and the island of Rakino can continue to be enjoyed to the full by generations to come.
Communication with members is generally via email. Regular e-Newsletters from the Committee are published to keep everyone abreast of what's happening on the island. There's also a traditional outbreak of highly competitive family-oriented activities over the Christmas holiday period, which the Association proactively supports and promotes… We'd always like to do more, with your support!
You can join RRA at any point in the year by completing a membership form and returning it to the Secretary with payment. RRA's financial year runs from July 1st to June 30th, with an AGM in October over Labour Weekend.
RRA Committee
The Committee serving for the year from October 2017 is
Member
Elected Position
Contact
Stephen Thomas
Treasurer
Chris Clews
Chair

[email protected]

David Mahon
Natasha Holland
Subs Secretary

[email protected]

Elisabeth Easther
Rod Inglis
Kevin Hester



Committee Appointees:
Sheryl Donaldson
Island Representative
Kevin Hester
Island Representative
Hank and Bev Postmaa
Fire Representatives
John MacKenzie
Environmental Officer
Contact
Registered Office
18 Kakariki Ave,
Mt Eden,
Auckland 1024
Postal
PO Box 106-703
Commerce St,
Auckland 1072
Email

[email protected]

Web
www.rra.nz
Constitution
Rakino Ratepayers Association is a Registered Incorporated Society. The RRA Constitution (PDF) was last revised in 2014. It explains in detail the functions of RRA and membership.